Registration is now open for the OTHTC Ultra and 30K. Click on the Ultra Home tab above for more on the ultra and to register.
Welcome to the Over-The-Hill Track Club Website. We are a recreational club serving Ridgecrest, California and the Indian Wells Valley. Here in the high Mojave desert, we enjoy a year-round monthly schedule of races, other sponsored activities and charity drives. All events are open to the public. Contact us using one of our links below if you are interested in participating in our events or would like more information. We are most known for the "High Desert 50k Ultra and 30k" that we host the first weekend in December. Friend us at Over the Hill Track Club (OTHTC) on Facebook . Click Here for an application and info on joinimg the OTHTC.
- Next Club/Local Events-
----------------------------------------------------------------------------------------------------------

OTHTC Owens Peak Ultra
October 11, 2015
Ridgecrest, California
Registration closes 11:59pm. October 8, 2015
Event Start: October 11, 2015 at 6:00am
Formerly known as Man Vs Horse, the Over The Hill Track Club is proud and excited to adopt this race.
No Horses.
There will be 3 distances, a 10 mile, 26.2, and a 50k.
Start and finish is at the base of Indian Wells Canyon at Indian Wells Brewing CO.
Run is on desert/mountain fire roads and jeep trails.
The fees for the races are: 10 mile-$45 Marathon-$79 50K Ultra-89
$5 off for OTHTC members.
More information and register at Ultra Signup.
Please spread the word tell your friends and invite fellow runners to this great event!!



50K Ultra Altitude Profile
More information of interest may be available at the OTHTC Facebook Events page.
The Facebook Ownes Peak Ultra page has more information.
-------------------------------------------------------------------------------------------------
2015 KO Trail Half Marathon
November 7th, 2015
Ridgecrest, CA
Registration starts at 0600.
Walkers start at 0630.
Runners start at 0700.
No entry fees however donations will be accepted to cover the cost of the race.
The racecourse is approximately 13 miles long, starting and finishing at the south dirt parking lot of Cerro Coso College.
The course consists of challenging climbs ending with a fast three-mile downhill finish.
There will be three aid stations along the course at around the three, six and nine mile points.
Male and female top finisher awards will be given for the walking and running events.
This run will be a good tune up for the upcoming High Desert Ultra on December 6.
For more information call Eric Kajiwara at 375-1779 or Joe Oliver at 375-4108.
------------------------------------------------------------------------------------------------------------------------------------------------------------------------
-OTHTC Race News-
-------------------------------------------------------------------------------------------------------------------------------------------------------------------------


Over the Hill Track Club Firecracker 4000
July 4, 2015

Seventy-five runners and walkers participate in this year's annual Fire Cracker 4000 Fun Run. The Escobar family travelled all the way from Riverside to run in the event. The first place male runner was 17 year old Christian Shultz with a time of 18:35 and the first place female runners was 16 year old Julia Ernst with a time of 23:51. The first place male walker was Randy Klassen and first place female walker was Debbie Corlett, both finishing the course in 50:33.
Breakfaast Run
June 6, 2015
3-mile run/walk in the hills southeast of Ridgecrest
A total of thirty-eight brave runners and walkers showed up for the Breakfast Run on June 6th. The course started out with a steep, rocky uphill climb and finished coming down the same hill. There were a number of other hills and some soft sand in a couple parts. It was also warm! The top male finisher was Greg Ostrom with a time of 21:55. Connie Scanlan was the first female finisher with a time of 30:39. Thanks to all who came out, and a special thanks to the Escobar family who made the trip from Riverside just for this run and camped out near the trailhead.
Prediction Run
March 21, 2015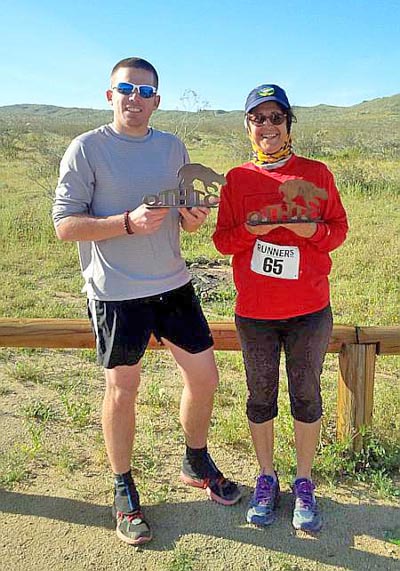 The 4th Annual OTHTC Prediction Training Run was held on March 21, 2015. We had a total of 14 participants. The course was approximately 4.9 miles and participants were required to estimate their finish time, without know anything about the course except the distance. Participants were not allowed to have any timing devices of any kind, i.e., watches, cell phones, GPS, egg timers, sun dials, etc…. Participants were on the honor system. Just prior to race start, participants were given a course briefing and they were off.
For the men, Andrew Smosna finished the course closest to his predicted time. The difference between his finish time and his predicted time was only 44 seconds.
For the women, Jo Kajiwara finished the course closest to her predicted time. The difference between her finish time and her predicted time was 2:52.
It was a beautiful day for running in the hills behind the college. The flowers were still pretty spectacular and the weather was gorgeous. There was only a slight breeze so the temperature was perfect.
Thanks to all the participants and volunteers.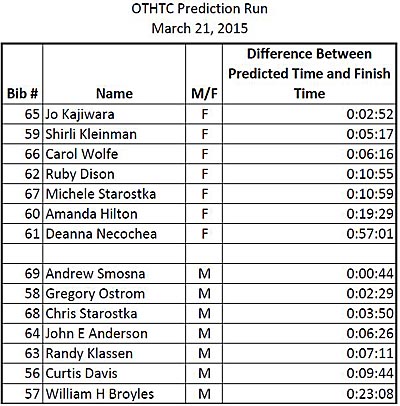 Andrew Mitchell
OTHTC Prediction Training Run Race Director
OTHTC Caballo Blanco Run Free Fat Ass
February 14, 2015
By Race Director Chris Rios
OK here is an attempt at posting the race results of the CBRFFA. Some runners left early and I didn't get their time/loops.
I counted 47 racers, joggers/walkers. Overall winner was Chris Tarzan Clemens from Santa Barbara, Ca. (6 loops 4:54 31). First female was Linda Dewees from Inyokern, Ca. (6 loops 8:03 58). We had two other runners that ran 6 loops, Eric F. Kajiwara and Luis Escobar. 17 runners ran 1 loop. 8 runners ran 2 loops. 1 ran 3 loops. 4 runners ran 4 loops. And we did have some that came and joined in on the fun but we did not get the number of loops they ran.
The ages ran from age 11 to 81. They came from far and wide. From Santa Barbara, Hesperia and Riverside. We raised a bit over $1000.00. Thanks to all who came and Ran Free. Viva Caballo Blanco. See ya next year.
Resolution Run
Jan 1, 2015

A great group of runners, walkers, children and dogs enjoyed an early morning outing. We had 66 participants starting their yearly exercise resolution. The Packrats
2014 OTHTC High Desert 50KUltra and 30K
The OTHTC High Desert 50K Ultra and 30K were run on December 7, 2014 under near perfect conditions. There had been signifecant rainfall a few days before the races leaving the trails and roads in great running condition, and the weather was cool and pleasant -- not cold, no wind, sunny, etc.
Record Crowd for the 2014 OTHTC Turkey Trot
It was a beautiful morning with cool, overcast conditions. There were 507 signed-up participants and along with an unknown number of people who hadn't braved the sign-up line our attendance was a new record, smashing the old one. Over 40 raffle prizes were given out at the end, with some very nice prizes donated by local merchants added to the track club and Burroughs Cross Country Team closet giveaways. Many families of runners and former runners were among those who participated. Gregory Ostrom was the winner of the coveted rubber chicken award on the men's side, winning a close battle at the end, while Julia Ernst won her rubber chicken fairly easily finishing a good distance ahead of the second place female. Thank you to all who donated, participated, and joined in the fun family event.

OTHTC and The Burroughs Cross Country Team would like to say thank you for all the donations for this Thursday's Annual Turkey Trot 5K Family Run. The following businesses made donations for the post race raffle:
Beanster's Expresso
Casa Corona
Casey's Steaks & BBQ
Corny's Shoe Store
Denny's
Pizza Factory
Ridgecrest Cinemas
Also, the OTHTC and Burroughs Cross Country Closets.

Thank you all for helping make this a fun memorable event.





Rubber Chicken Winners Gregory Ostrom and Julia Ernst

The crowd at the signup.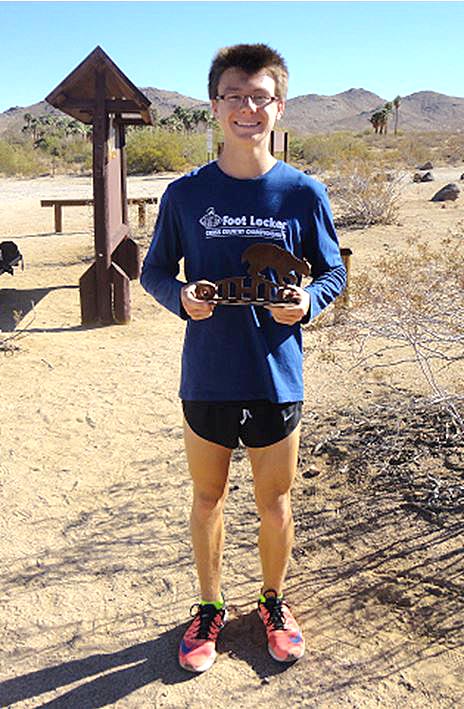 KO Half Marathon
November 8, 2014
Eighteen runners and 4 walkers participated in the 2014 edition of the KO Half Marathon. 16 year old Christian Schultz (left) was the overall winner with a finishing time of 1:32:40 in spite of making a wrong turn and giving the field a mile advantage. The first female runner was Karen Usko (below left) with a finishing time of 2:20:01. The first overall walkers, Patricia Pfahl and Amy Neal (below right) finished in a tie with a time of 4:13:06. Thanks to the aid station volunteers, Terry Mitchell, Joseph Shermer, Racheal Mattinson, Chris Rios and Corky Furnish.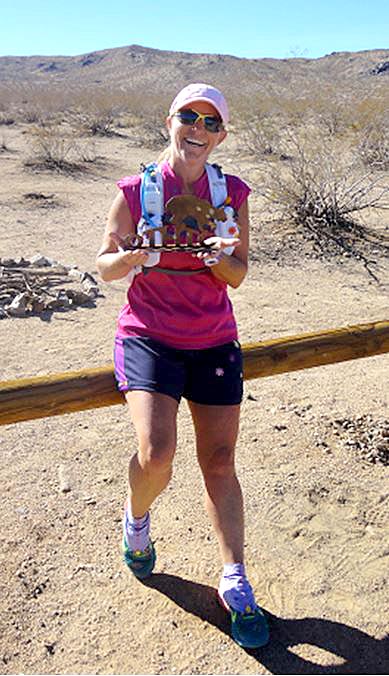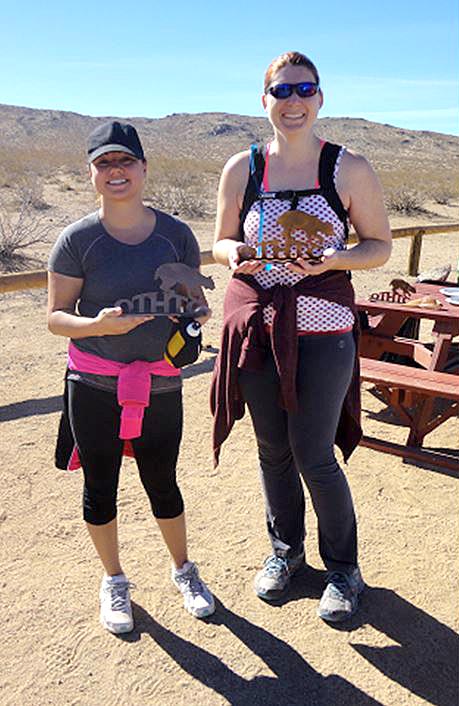 -------------------------------------------------------------------------------------------------------
------------------------------------------------------------------------------------------
OTHTC Prediction Training Run
March 15

Twenty-nine runners came out and had fun at the OTHTC Prediction Training Run to see how close they could come to their predicted time. The course was 4.61 miles long and according to the RD had ONE hill…. RD Andrew Mitchell, thanks Eric Kajiwara for helping mark the course…

The results below lists the runners, their gendr and the difference between their predicted times and their finishing times.

Jeff Andrus
Nick Anderson
Andrew Estabridis
Anthony Barnes
Kris White
John E Anderson
Maryah Marcano
Tom Miller
Annie Ewbank
Eric Laskey
Robert Richards
Christian Schultz
David Aranda
Morgan Fuller
Heidi Fuller

M
M
M
M
M
M
F
M
F
M
M
M
M
F
F

0:00:40
0:00:52
0:00:54
0:00:56
0:00:58
0:00:59
0:01:14
0:01:38
0:01:39
0:01:55
0:02:07
0:02:08
0:02:17
0:04:09
0:04:09

John Auborn
Roy Johanboeke
Cameron Fuller
Josh Boston
Andrew Ostrom
Gregory Ostrom
Dianne Rindt
Mitchell Batzer
Maria Coit
Kenneth Terrado
Annalyn Edulag
Annalisa Szczypiorski
William H Broyles
Chris Rios

M
M
M
M
M
M
F
M
F
M
F
F
M
M

0:04:10
0:04:20
0:04:29
0:06:58
0:07:15
0:08:43
0:09:02
0:09:33
0:10:59
0:12:06
0:14:55
0:14:57
0:18:57
1:35:20

-----------------------------------------------------------------------------------------------------------------------------------
President: Amanda Hilton Vice president: Johnathan Slager Secretary: Treasurer: Maria Coit
Publicity: Eric and Jo Kajiwara Facebook page admin: Amanda Hilton Webmaster: Tom Rindt
OTHTC is a member of the Road Runners Club of America t
President or for more information: OTHTCPresident@gmail.com
Webmaster: webmaster@othtc.com
Over-The-Hill Track Club
Ridgecrest, CA 93555